The Bookmobile is a mini-library on wheels making weekly visits to communities located throughout Dane County. For a complete list of stops with maps, click here:
The Bookmobile carries fiction and nonfiction materials for adults and children, including books, paperbacks, magazines, large-print, DVDs, music and audio book CDs.
A valid library card is necessary to borrow items on the Bookmobile. A library card issued by any library in Dane or surrounding counties is honored on the Bookmobile. It is possible to apply for a library card while visiting the Bookmobile.
Requests for materials not available on the Bookmobile, may be made through LINKcat or by calling the Bookmobile office at (608) 266-9297 weekdays, 8am-4:30pm.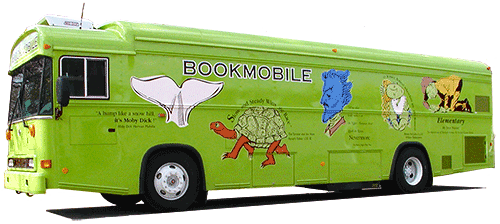 Borrowing / Return Policy
DVDs are loaned for 7 days.
Magazines & Music CDs are loaned for 14 days.
All other materials are loaned for 28 days.
Check your receipt. Items loaned by other libraries may have different loan periods/policies.
Items borrowed from the bookmobile may be returned to the bookmobile or to any public library in the South Central Library System.
If special assistance is required to access the bookmobile, please call the Bookmobile office at least 24 hours in advance at (608) 266-9297 weekdays 8am-4:30pm.
Bookmobile Office Phone Number:
(608) 266-9297